Dog-Friendly Ontario Parks Roofed Accommodations
Key Takeaways
Dogs are allowed at select Ontario Parks roofed accommodations with a limit of 2 dogs (any size)
An additional fee of $20/night applies
Cats and other pets are still restricted from all roofed accommodations
Reservations can be made by on the Ontario Parks website or by calling 1-888-ONT-PARK
Roofed accommodation camping has long been available in private, provincial, and national parks. It not only helps to extend the camping season for many outdoor lovers, but it's a fantastic way to make outdoor travel accessible to everyone – which we love! Unfortunately, for pet lovers, this always came with a key caveat… Roofed accommodations usually exclude all pets. That is until a select list of Ontario Parks roofed accommodations were deemed dog-friendly.
It's a shift that was welcomed with excitement by the pet-friendly outdoor travel community.
Of course, there are still limitations. The number of yurts and cabins that allow dogs is still relatively low. Plus, they only allow dogs, leaving cats and other pets still waiting for their chance.
But we believe that it's a step in the right direction!
If you're considering planning a trip with your pup to visit one of the available dog-friendly roofed accommodations at Ontario Parks, this guide is for you. Here is everything you need to know to plan a fun and enjoyable trip with your pup.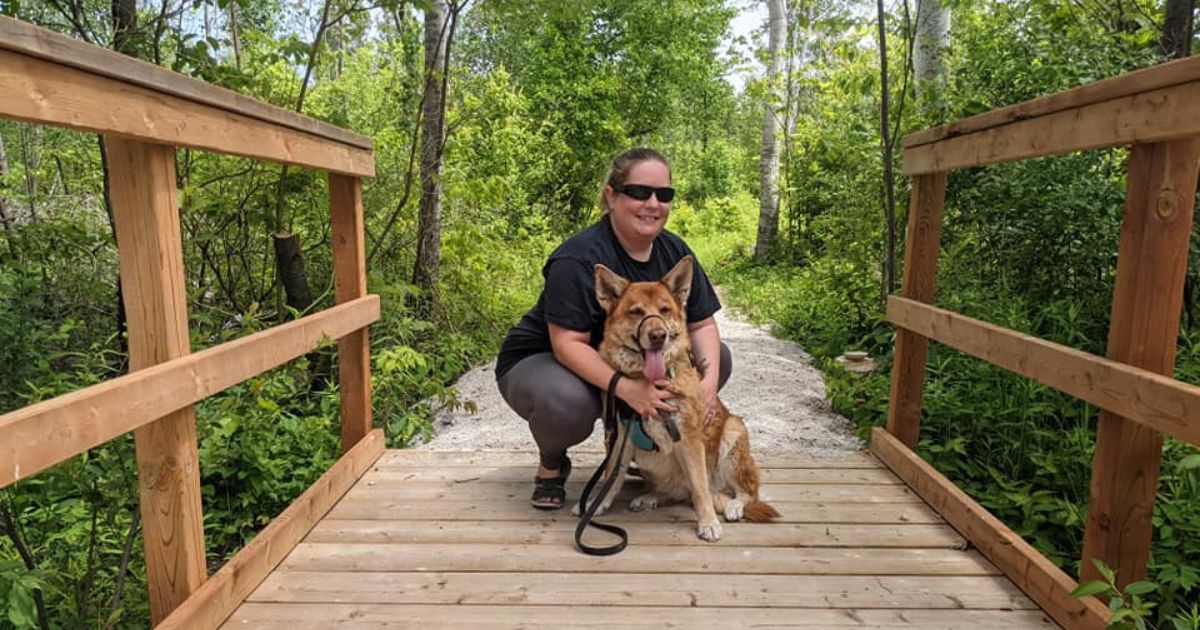 What Types of Ontario Parks Roofed Accommodations are Available?
There are three types of accommodations that Ontario Parks offers for dog-friendly travel – cabins, yurts, and trailers.
When deciding on the best option for your next trip, you will need to consider what amenities you and your family will need, the area you are considering traveling to, and which parks offer the activities that you enjoy the most.
For example, if you love hiking with your dog, you will want to check which parks have trails that you can enjoy during your visit.
Cabins
The rustic cabins at Ontario Parks are wooden structures that vary in amenities. While some are more modern and updated cabins, others have a much more rustic feel.
Each cabin offers raised bunks for you and your family to sleep on. The number of beds can vary from park to park.
Outside, you will see a campsite space with parking, a barbeque, a fire pit, and a picnic table.
Most of these cabins are designed to sleep 5, with a queen-sized bed and a double/single bunk bed. However, there are exceptions like those at Sleeping Giant that sleep 6.
You will have many modern amenities, but those too vary from park to park. This includes a kitchenette (or full kitchen space), heating, electrical, and a dining area. Some cabins have private bathrooms, while others are a short walk from a comfort station.
Yurts
A yurt is a soft-sided shelter that can best be described as a cross between a tent and a cabin.
Each yurt features a solid floor and foundation and a cabin-like frame in a circular shape. This is then covered with a durable tent-like fabric material.
Like the cabins, yurts provide campers with bunks to sleep on. This is key for those who struggle with sleeping on more traditional camping set-ups like a cot or air mattress on the ground.
They also offer heat, lighting, electrical access, and an indoor seating area. Outside you will have your parking space, a fire pit, a barbeque, and a picnic table.
This is the perfect solution for those who want to enjoy sleeping in a tent with the added benefits of a roofed accommodation.
Trailers
If you have always wanted to go trailer/RV camping but aren't ready to invest in a trailer, these accommodations are a great solution.
Each site is a standard campsite with a picnic table and a fire pit. But the site is equipped with a travel trailer.
The trailer offers heat, air conditioning, a kitchenette, and sinks with potable water. However, there are no bathroom facilities in the trailer. For that, you will need to walk to the nearest vault toilet.
Which Cabins and Yurts are Dog-Friendly?
As I previously mentioned, not all Ontario Parks roofed accommodations are dog-friendly. In fact, the vast majority are not.
If you are planning your next getaway, here are the roofed accommodations that allow your pup to join you. But be prepared, they book up fast!
How Do I Book Roofed Accommodations at Ontario Parks?
You can book any of the roofed accommodations in the same way that you book a standard campsite. This includes online booking and booking by phone.
To book online, visit: Ontario Parks Reservations
To book by phone, call: 1-888-ONT-PARK (1-888-668-7275)
To book by phone outside of North America, call: 1-519-826-5290
How Much Does It Cost to Bring My Dog?
When booking roofed accommodations in Ontario Parks, you will pay the fixed reservation fee with an additional $20 per night. Check with the park to find out the base fee, as it differs from park to park.
This cost is the same whether you bring 1 dog or 2, regardless of your dog's size.
You will also be responsible for any damages your dog may cause during your stay. This is one reason why it's so important to keep your dog under control.
What Do I Need to Bring for Roofed Accommodation Camping?
Unlike a standard campsite, your roofed accommodation offers many benefits and amenities. This will obviously impact your packing list.
Here are a few items that you will need to bring for your next stay:
Bedding
Food and potable water
Pots, pans, dishes, cutlery
Pet food and water dishes
Toiletries and personal items
Have you ever stayed at any of the Ontario Parks roofed accommodations with your dog? If so, we invite you to share your experience in the comments!